Vision and Prayer for Christ Community Church:
That we would dedicate ourselves to seek first the Kingdom of God, and that we would be the hands and feet of Christ in the world as He is making everything new.
Amber Steele
– Amber has lived all over the United States, as well as the Philippines, because her father served in the US Air Force. After graduating from Grove City College with a degree in Elementary Education, she settled down in the Pittsburgh area and has been living here since then. She left the education field after teaching for a few years to be a stay-at-home mom. She and her husband, Greg, have three young children, Caleb, Megan, and Micah. Amber is delighted to serve in a role where she can support children, students, and families at CCCSH. (
Email Amber
)
Vision and Prayer for Christ Community Church:
That we would be a community of people who seek God first, grow in our knowledge and love of Him, and share His love and grace with others.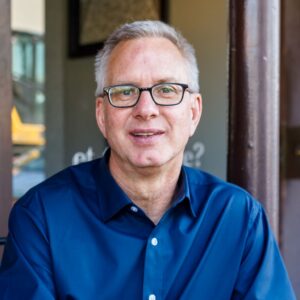 Terry was born in Milwaukee, Wisconsin and moved to Pittsburgh when he was in 4th grade. One of his favorite expressions is "dream venti" because he believes the best way to experience a rich and full life is to use our imagination to pursue God-sized dreams. With degrees from Duquesne University, Pittsburgh Theological Seminary, and Northern Seminary, his background in the ?elds of music, education, theology and leadership fuels his passion of helping people become everything God intended, created, redeemed and gifted them to be. Terry is the author of "
A Movable Feast: Worship for the Other Six Days
." He and his wife, Patty, have four adult children and two grandsons. (
Email Terry
or visit
Terry's blog).
Vision and Prayer for Christ Community Church: That day by day we would grow in our love for God, for one another, and for our world.
Joe Veltri
– Native of the South Hills of Pittsburgh. Part technical, part business, jack of all trades – master of none. Married to his partner in life and best friend, Margie. Joe serves our community of faith as worship facilitator. (
Email Joe)
Vision and Prayer for Christ Community Church: A community where folks desire to be. A family where we all grow closer in our walk with our Lord. A place where in Christ, we share the hope, the grace, and life everlasting – with all God's children.